Cryptocurrencies are now a mainstream—although volatile—investment tool. But blockchain-based payments are just beginning to catch on. Over the coming years, it is expected that there will be a huge growth for the use of cryptos for retail, cross-border remittances, and B2B payments. Incumbent banks and payment networks must carefully weigh crypto opportunities against risks to ride the crypto wave—without getting swept up in the crash.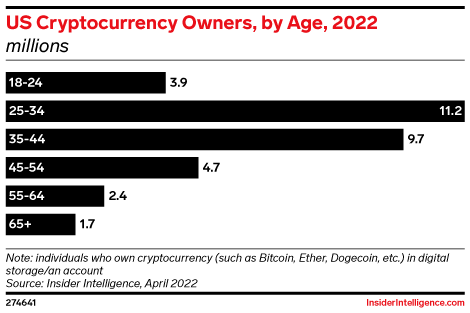 So, what's driving and inhibiting the growth of crypto payments in the US?
Crypto payments are in the first inning of growth, driven by consumer demand and payment provider investment. 21% of crypto owners cite transactions as their primary objective for owning cryptos, per McKinsey's 2021 Digital Payments Consumer Survey. In response, payment giants like PayPal and Visa are positioning themselves to translate interest to action by enabling crypto payments between more users and merchants.
Four emerging use cases—remittances, cross-border B2B payments, and retail card and noncard payments—present industry participants with unique possibilities and challenges. In this report, we analyze each use case, examine the expected growth of crypto payments, and outline how banks and payment networks should cater to this new era of payments.
And according to Insider Intelligence, US crypto payment adoption may reach 5.5 million users by 2023.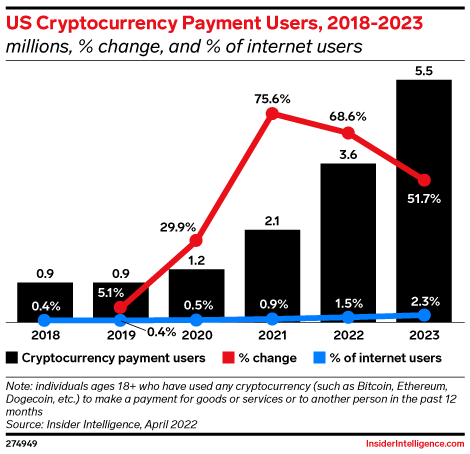 Global crypto transaction value growth is following a very similar path. It is likely to growth from $6.10 billion from 2021 to $16.16 billion in 2023.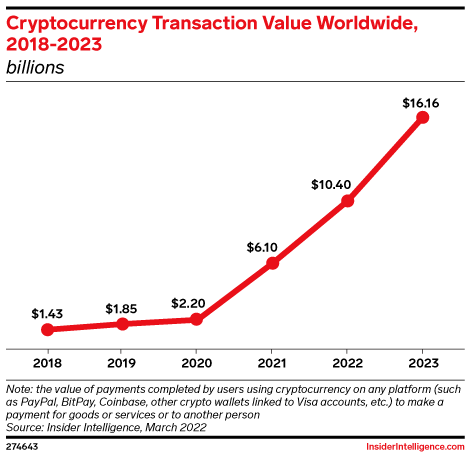 Author